These Clip On Dip Holders are perfect for serving foods with dipping sauces. and ensure your salsa, dressing, and condiments are always close! With soft-grip buttons to secure the mini bowls to the side of any kind of plate.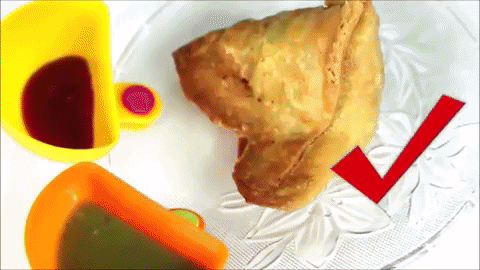 CONVENIENT AND PRACTICAL - Cute Scoop sauce containers hold 1/3 cup – Dishwasher-safe, food-safe plastic – Won't scratch plates! It is a convenient alternative to hold any liquid or small crafty items – not only for food.
COMPACT SIZE AND COLORFUL DESIGN - 2.05 x 1.77 inches Easy carry with a plate, easy store in a kitchen drawer, cute with 4 colors make dining more pleasure for kids.
'MUST HAVE' FOR YOU KITCHEN - Works on most plates, including paper plates, kitchen aid gadget set comes with 4 colorful, fun-to-use bowls – Ideal for outdoor camping, party, potluck, dinner, picnics or at the beach, living room.
EASY TO USE AND KEEP - Small container bowls make serving sauces & condiments at your next party or event, ultra-convenient. Plastic clips that conveniently grip the edge of your serving dish, tray or platter for your party snacks, sauces, guacamole, and salsa, making it a great artwork event decoration.